How To Prevent Appliance Leaks and Water Damage
3/16/2021 (Permalink)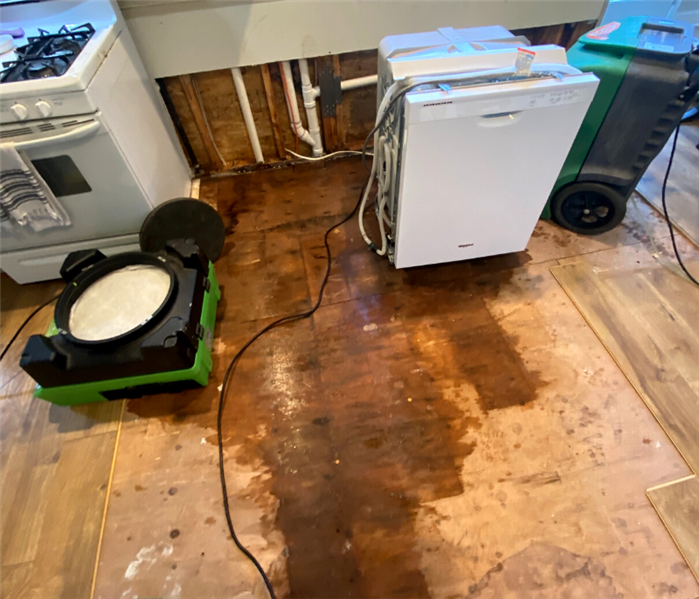 This dishwasher leak caused water damage to the kitchen floor and leaked into the basement below, requiring extensive water damage restoration.
Water damage caused by leaking appliances can pose a significant threat to your home in Fairfield County. Essentially, any appliance in your home which utilizes water can increase your risk for flood damage.
Here, we will review the top appliances that can cause flooding in your home, ways to prevent this damage from occurring, and when water damage caused by appliances is covered by your insurance company.
Hot Water Heater
As your water heater ages, it becomes more and more likely for it to spring a leak and damage your home. The average life expectancy for water heaters is only 8-15 years, with an estimated 75% failing before they're even 12 years old.
When your water heater leaks or bursts, there's the possibility of up to 40 to 120 gallons of water to flood your home, depending on the model you have.
Causes of hot water heater failure include:
Loose drain valve
Too much pressure in the tank can cause it to burst or crack
Old tanks can naturally deteriorate and leak
Too much sediment in the tank
Corroded anode rod
Washing Machine
The average washing machine uses 19 gallons of water per load. This may not seem like a lot, but when a water supply hose cracks or detaches from the machine, the water can come pouring out into your home, seeping through floors, walls, and ceilings. The most common cause of washing machine water damage is a failed supply hose, which on average fails after 8.7 years.
Refrigerator
Like other appliance leaks and water damage, refrigerator leaks can be caused by many different things. If your fridge has a water filter or ice maker with a water supply line that was incorrectly installed, it can leak for weeks before you even realize. Another common cause is a faulty or clogged defrost drain, which will cause water to spill right on to the floor.
Dishwasher
While dishwashers may not hold as much water as other household appliances, they can still cause a significant amount of damage to your home. When they leak on to the floor, water can quickly seep underneath it and into the rooms below.
Causes of dishwasher leaks include:
Leaking dishwasher door
Leaking or cracked tub
Loose or cracked water hoses or clamps
Using the incorrect or too much detergent
Air Conditioner
Air conditioners are most likely to cause water damage over time, meaning that you aren't likely to notice the leak right away. Depending on where your air conditioning unit is located in your home, you may not notice any issues until major damage has already been done.
The most common causes of an air conditioner leaking include:
Clogged or disconnected drain
Dirty condensate pump
Clogged air filter
Dirty evaporator coil
Cracked drain pan
Low refrigerant
Condensation buildup within ductwork
Preventing Water Damage From Leaking Appliances
When you take steps to perform regular maintenance and visual inspections around your home in Fairfield County, water damage caused by leaking appliances is more likely to be avoided.
Inspect Water Supply Lines - You should keep a monthly schedule to perform visual inspections of all water supply lines in your home. This simple task can help you identify any signs of clogged, damaged, or deteriorating water lines before they begin to leak and cause damage to your home, and doesn't even need the help of a professional.
Keep Track of When Supply Line Hoses Should Be Replaced - In addition to performing visual inspections, you should replace all water hoses before the average time that they are expected to fail.
Have Your Water Heater Inspected Once Per Year - Over time, sediment and other debris can build up in your hot water heater which can cause the appliance to malfunction and leak. You can follow the manufacturer's directions to flush out the heater tank yourself or call a local plumber. It may be best to have a professional inspect your water heater, as there may be internal elements that you can't inspect yourself.
Have Your HVAC System Serviced Once Per Year - Since HVAC systems are more complex than other appliances in your home, it can be harder to tell based on visual inspections if something is wrong. Having your system inspected by an HVAC professional once per year can help prevent air conditioner leaks and water damage.
Follow All Manufacturer Guidelines - You can help prevent water damage from washing machines or dishwashers by simply using the correct detergents and not overloading the appliances, as these are major causes of their failures.
Is Water Damage Caused By Leaking Appliances Covered By Insurance?
For the most part, your homeowners insurance policy should cover water damage caused by appliances. These damages are covered when caused by sudden and unforeseen water damage. This means that if you were negligent in keeping up the appliance or ignored a leak for months, your insurance company will not cover the damage restoration.
This also means your insurance may not cover regular wear and tear if your insurance adjuster decides that your damages could have been avoided by performing regular maintenance. Leaking appliance insurance claims can get complicated if it isn't clear the damage suddenly and unexpectedly happened.
Times when your claim should be covered include:
Hot water heater leak or burst
Washing machine overflow
HVAC leaks
Dishwasher leaks
Ice maker line leaks
Need Help With Appliance Leaks and Water Damage in Connecticut? We Can Help!
SERVPRO of Westport/Fairfield is your local water damage restoration company serving all of Connecticut. With over 15 years of experience, our team has restored countless homes and businesses after appliance water damage.
We Handle The Insurance Process For You

Free Water Damage Estimates

IICRC Certified Technicians
Call Us Today For Immediate Assistance - 203-707-1952