Pipe Leak Water Damage Repair in Weston, CT
11/22/2022 (Permalink)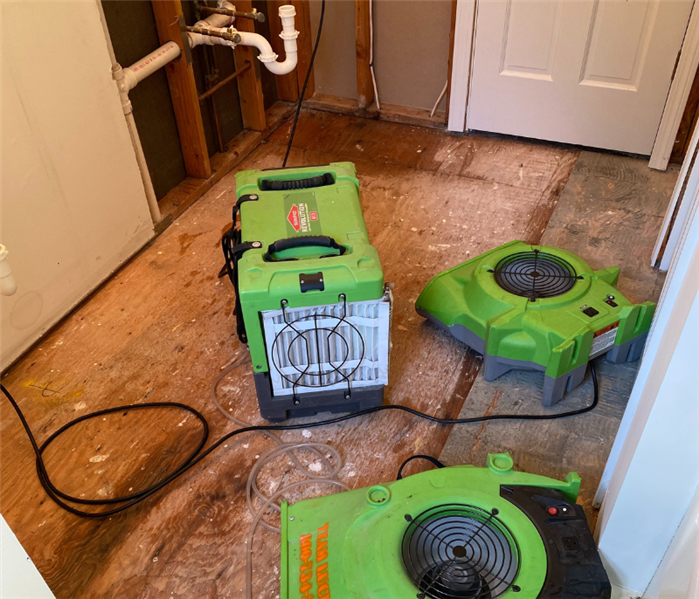 The damages from a pipe leak in Weston, CT can be extensive - That's why our team responds 24/7 to begin cleanup and restoration immediately.
Get Immediate Pipe Leak Water Damage Cleanup in Weston, CT!
When you discover water leaking from a pipe, you want to take immediate action. Although they can be subtle, plumbing leaks can be disastrous when they occur inside your home or business.
If left unaddressed, the water can seep into your floors and walls and cause serious structural damage. The moisture can even lead to mold growth in as little as 48 hours.
When you call SERVPRO of Westport/Fairfield for help after a pipe leak in Weston, CT, we're ready to begin cleanup immediately.
Call Our Office For 24/7 Assistance - 203-707-1952
Expert Water Damage Restoration After A Pipe Leak in Weston, CT
When you're dealing with a leaking pipe, fast action is essential to prevent serious damage to your home and health.
With over 15 years of experience in water damage restoration services, you can trust SERVPRO of Westport/Fairfield to properly restore your home after water damage from a leaking pipe in Weston, CT. Our IICRC Certified restoration specialists are highly trained, with the right equipment and resources to handle any size disaster.
Our team also understands that the insurance process can be overwhelming, which is we directly communicate with your insurance company to submit all required documentation on your behalf.
When you call SERVPRO of Westport/Fairfield for pipe leak water damage cleanup in Weston, CT, we're ready to make your leaky pipe "Like it never even happened."
Common Causes of Pipe Leaks
Broken seals
Clogged lines
Damaged pipe joints
Loose water connectors
Cracks or corrosion
High water pressure
Pipe Leak Water Damage Repair Process
Our team uses a general repair process to create a unique cleanup and restoration plan for your pipe leak in Weston, CT.
A Project Manager inspects your property to determine the extent of the water damage from your leaking pipe in Weston, CT. From here, they develop an effective plan to properly address all of the affected areas.
Our team begins immediately using powerful pumps and vacuum units to extract the majority of the water. By quickly removing all of the standing water, we can help to prevent damages from spreading to other areas on your property.
Your local SERVPRO in Weston, CT uses specialized moisture detection equipment to determine the optimal number of air movers and dehumidifiers to set. This step may also involve removing portions of drywall or flooring to address any water that may have seeped into building materials.
Our professionals clean and disinfect all of your restorable items and structures affected by water damage to ensure dirt, bacteria, and possible mold spores are not present. We're also trained to remove any unwanted odors and provide deodorization using fogging equipment.
The last step of your pipe leak water damage cleanup in Weston, CT is getting your home or business back to normal. Our in-house construction division takes over during restoration to complete any needed repairs or renovations. This step may involve replacing a few panels of flooring or even rebuilding various rooms in a home or business.
Get 24/7 Repair For Water Damage From A Leaking Pipe in Weston, CT - 203-707-1952