What To Do After A Sewage Backup in Fairfield, CT
1/5/2023 (Permalink)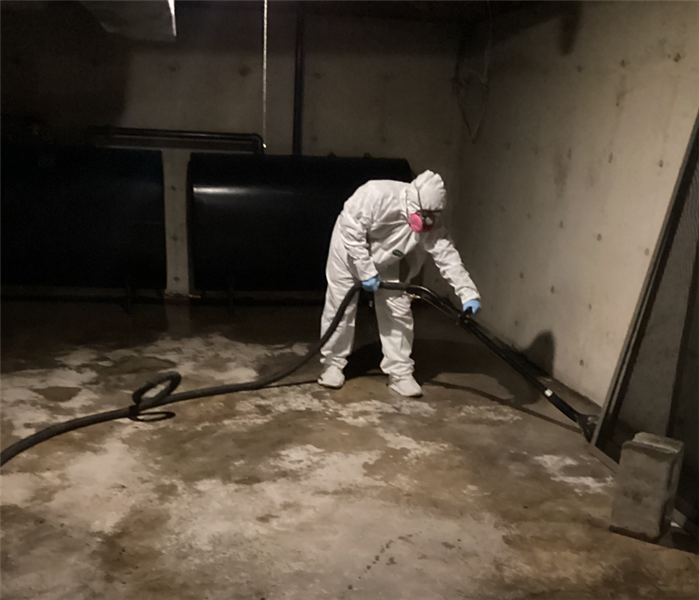 SERVPRO of Westport/Fairfield uses the most advanced techniques and solutions to provide expert sewage cleanup in Fairfield, CT.
Sewage backups are a homeowner's worst nightmare, and they often come when you least expect it.
When a sewer backs up, it can cause widespread contamination throughout your property. In fact, sewage water is considered Category 3: Black Water, which is grossly unsanitary and could cause severe illness or death if ingested.
Sewage backups in Fairfield, CT are a problem you never want to deal with. Below, we've outlined what to do when you discover a sewage backup, as well as the most common causes to help avoid them.
Need Sewage Cleanup in Fairfield, CT? Call Us Today - 203-707-1952
How to Handle A Sewage Backup
Don't enter the affected area! Sewage water is dangerous and any contact should be avoided.
Call a plumber or septic company to repair the issue. Depending on the cause, your septic system or drain lines may need to be repaired or replaced. If the sewage backup was caused by a clogged drain, you will need someone to clear the clog so it doesn't occur again.
Call a sewage cleanup service in Fairfield, CT. You want to seek immediate assistance from a professional sewage cleanup company to prevent the spread of contamination and damages. SERVPRO of Westport/Fairfield provides a 24/7 emergency response to begin the cleanup process right away to help minimize losses.
Call your insurance company. Most sewage backups are covered by homeowners insurance, so you want to call your insurance company to find out more information and open a claim.
Avoid using your toilets and sinks until the sewage backup is properly handled. Don't use the water supply system in your home until the problem has been completely addressed.
What Causes Sewage Backups?
1. Clogs in Drain Pipes or Main Sewer Line
Blockages in your property's drain pipes or the city's main line can prevent waste from flowing freely away from your home, pushing waste that should flow into the public sewer system backwards.
Clogs are often caused by flushing items like feminine hygiene products or diapers down the toilet. Rinsing cooking grease, hair, or other solid materials down your drain can also create a blockage.
2. Physical Damage to Sewer Lines
Normal wear-and-tear can cause corrosion or sediment buildup in your pipes, which can then create leaks and blockages. Natural soil movement can also lead to damage.
When sewer lines are damaged, wastewater is unable to flow through them, so most of it will build up in the line and eventually cause a backup.
3. Tree Roots Growing into Pipes or Septic System
Did you know that tree roots are naturally drawn to the water in your pipes?
Tree roots will actually grow towards any small leaks that are present in your sewer line, and can eventually grow through the pipes and create a blockage that causes a backup.
4. Overflowing Septic Tank
When septic tanks reach their maximum capacity, the rest of the water will have nowhere to go, causing it to backflow into your home.
5. Heavy Rains or Flooding
Since your municipal sewer system collects all of the runoff in your neighborhood, periods of heavy rain or flooding can cause the system to reach its maximum capacity.
When the municipal sewer system becomes overfilled, excess water can flow backward into your home's sewer line.
Professional Sewage Cleanup Services in Fairfield, CT
When you're dealing with a sewage backup in Fairfield, CT, you need to seek professional assistance from a company with the right tools and resources needed to restore your home to safe and sanitary conditions.
SERVPRO of Westport/Fairfield has over 15 years of experience in sewage cleanup services in Fairfield, CT. With our specialized equipment and IICRC Certified team's expertise, we're ready to handle any size sewage backup with the most expert and efficient service.
When you need emergency sewage cleanup in Fairfield, CT, you can trust SERVPRO of Westport/Fairfield to make your disaster "Like it never even happened."
Get 24/7 Sewage Cleanup in Fairfield, CT - 203-707-1952