Fast Action For Bathroom Water Damage Repair in Westport, CT
3/11/2023 (Permalink)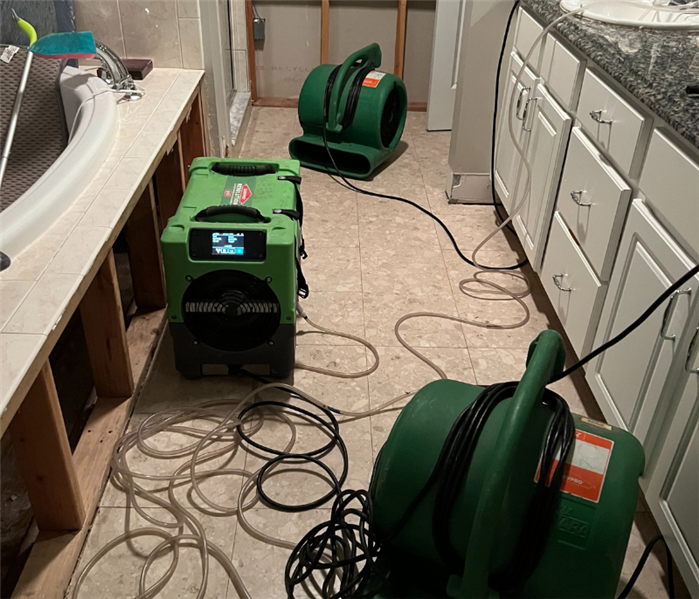 If a water disaster wreaks havoc on your bathroom, SERVPRO of Westport/Fairfield can provide immediate bathroom water damage repair in Westport, CT.
Since your bathroom is the most common space to use water in your home, it's also one of the top places to discover water damage.
With countless water sources in just one room, bathroom water damage in Westport, CT can feel inevitable. Whether you're dealing with a shower leak or sewage backup, you want to take prompt action to prevent damages from leading to structural issues or even mold growth.
When you discover water damage inside your bathroom, it can be easy to ignore it. However, there are a number of reasons why you should begin the restoration process as soon as possible.
Call Today For Immediate Assistance - 203-707-1952
Why You Should Seek Immediate Service For Bathroom Water Damage Cleanup in Westport, CT
1. Structural Damage
Bathroom water damage can lead to various structural problems in as little as a few days.
Plumbing leaks can cause your tile to loosen or crack, bathroom floor to warp, or even the ceiling below your bathroom to sag. When left unaddressed, bathroom water damage can spread to various areas throughout your home, threatening the structural integrity of the entire property.
2. Mold and Mildew Growth
Your bathroom is a famous spot for moisture, and water damage in this area increases moisture levels even more, increasing the chances for mold and mildew growth.
While mold may seem harmless, it's a serious hazard that can pose risks to you and your family's health.
3. Bad Smells
Musty odors can often accompany the dampness and any mold that may follow bathroom water damage.
The only way to completely remove the smell is by repairing the damages and any secondary damages it caused.
4. Increased Repair Costs
The longer you wait for bathroom water damage repair in Westport, CT, the more expensive it's going to cost.
When restoration is delayed, damages can worsen or even spread to other areas in your home, requiring more money to properly address.
5. Electrical Damage
Bathroom water problems can not only damage your electrical components, but they can also pose serious safety hazards. If water comes into contact with electricity, it can cause serious injury with the potential for death.
Common Causes of Bathroom Water Damage
Professional Service For Bathroom Water Damage in Westport, CT
When you discover bathroom water damage in Westport, CT, you want to seek immediate assistance to help minimize losses and lower costs for restoration.
As your local restoration service with over 15 years of experience in bathroom water damage repair near Westport and the surrounding areas, you can trust SERVPRO of Westport/Fairfield to handle any size water damage. Our IICRC Certified professionals are ready to respond to your call immediately with expert repair and restoration services.
When you call SERVPRO of Westport/Fairfield for bathroom water damage cleanup in Westport, CT, our team will use advanced training and equipment to make the damage to your bathroom "Like it never even happened."
Get 24/7 Bathroom Water Damage Repair in Westport, CT - 203-707-1952